Hi Stampers
A bit of a confession on my part but I have been dragging my butt.   After a month of sleeping 12 hours a day (when I can) and still feeling like crap, I decided (I was overdue) to go for a my annual physical.   And to no surprise, my Iron and B12 are both low.   I wasn't surprised because this isn't the first time.   I am back on supplements but it will take a while to get the levels back up.    I go back in 5 weeks for a checkup to see if things improve before he decides on the next step.     All I can think is this better correct itself before I go on vacation.   I can feel small improvements and have energy one day and will do everything I can…  then crash the next.   Saturday was the Merry Mistletoe Class and I felt great.   When everyone left and I put everthing away, I stayed up until 5:00 and couldn't do it anymore… so to bed I went.    Today will be a down day of blogging / creating / catching up….. oh yes in my PJ's.    So if you have been wondering why I haven't been doing a lot of blogging, it is because I have been doing a lot of sleeping 🙂    Here is hoping things are getting better, my energy comes back, the foggy head and lack of concentration goes away and I  get back to " my" normal.     It has been hard creating for classes and events, but it is getting better.
But now I am going to share some cards with you over the next few days… after all, that is why you are here.
Have you seen the Bouquet Bunch Framelits and the co-ordinating Beautiful Bouquet stamp set.    Isn't it adorable.   And check out the Brick Wall made with the Embossing Paste.   That stuff is pretty addictive.    You can mix it with reinkers, glitter, etc.  More on that in future posts.     This is definitely a card for someone special.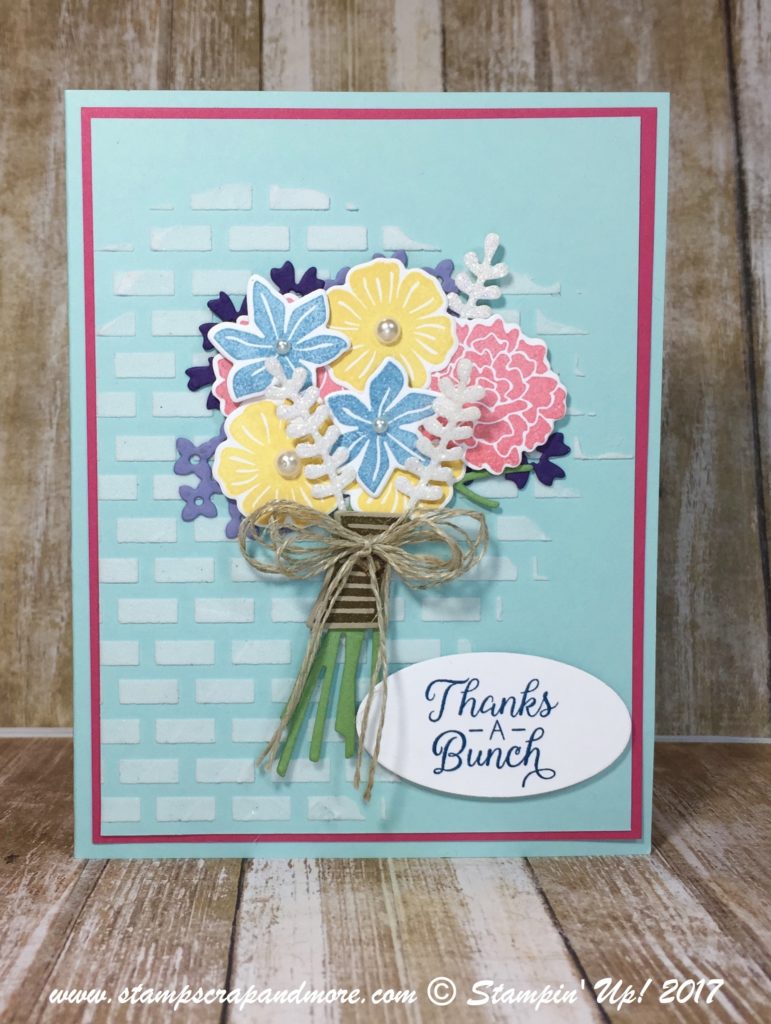 The Scoop
Beautiful Bouquet stamp set
Bouquet Bunch Framelits
Layering Ovals Framelits
Embossing Paste
Embossing Mask
Embossing Pallet Knives
Silicon Sheet
Pool Party card stock
Melon Mambo card stock
Whisper White card stock
Crumb Cake card stock
Whisteria Wonder card stock
Garden Green card stock
Elegant Eggplant card stock
Night of Navy ink
Daffodil Delight ink
Marina Mist ink
Flirty Flamingo ink
Dazzling Diamond Glimmer paper
Pearls
Dimensionals
Multi Purpose Liquid Tombow
Snail Adhesive
Linen Thread
Next up, is Coffee and a Card that was held last week.   I cannot tell you how much fun these are and I am loving holding them at the coffee shop.   Check in tomorrow to hear all about it.
Thanks for stopping by,
Elizabeth, Your Stampin' Up! Demonstrator
www.stampscrapandmore.com