Hi Stampers
I have been working on some projects and haven't had a chance to update the blog in a while…. so now it is catch-up time. If you follow me on Facebook – I try to keep that updated on a regular basis – it is easy to post a quick update there.
Back to my Mini Get Away   (consider this my journal.. when I am old an senile I will be able to look back and remember what I did :).
Day #2
Breakfast
Essential Oil Scalp Rejuvenation – The ultimate in Spa hair.   I actually left it in all day.   I washed my hair the next day and it felt amazing.   This was a free treatment I won in the monthly Spa Lotto… I would definitely do it again.
Lunch
Hot Stone Back Cleansing – Wow.  I had never had a Hot Stone Massage and thought this would be a good test.   What a wonderful experience.
Afternoon Tea
Nourishing Seaweed Body Wrap – Simply wonderful.    Wrapped in a cocoon of blankets and wraps while the seaweed mixture penetrates your skin.
Dinner
Bottle of Wine
Reading by the fireplace in the Massey Living Room
Perfection.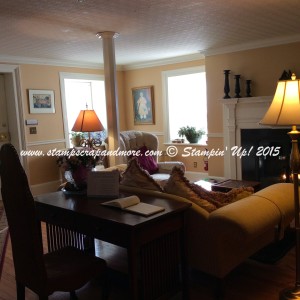 Side note:   After breakfast I had some time to spare and decided to get bundled up and check out one of the trails.   I had  90 minutes before my first treatment and thought a nice walk through the woods would be perfect. I quickly decided that I would take the shorter of the three walks…. yoga pants, a parka and snow boots were not warm enough, the trail wasn't groomed and it was downhill – which meant I had to walk up hill to get back to the Inn.  The trail had a crust of ice on the top which was great until you went through the layer and ended up in hip deep snow.
Do you know it isn't easy to climb out of snow !
Day #3
Breakfast
Eucalyptus Steam Room
Working on a puzzle
Firming Moor Mud Facial – very relaxing and totally required.   Between masks, your feet and hands are massaged.
Lunch
Back to reality!
This is the view when you walk from the parking lot to the front entrance…. it is a magical canopy of trees.  Once you past the trees and can see the front door to the Ste. Anne Spa, you feel the weight and stress leave your body.   I can't describe the feeling other than it is magical!.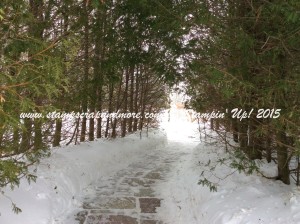 As I was having lunch, I could see the snow starting to fall.   It can sometimes be a scary drive on the highway in that area so I checked out quickly to get on the road before it got any worse.   Luckily once I hit the highway it was clear sailing.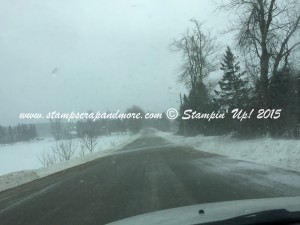 Til we meet again… farewell to the Ste. Anne Spa.
Thanks for stopping by,
Elizabeth, Your Stampin' Up! Demonstrator
www.stampscrapandmore.com