Hi Stampers
Time for my annual mini get-away… time to destress, shake the winter blues and get the depression in check.   Time to get pampered at the Ste. Anne Spa.      Yes this will go into my Gratitude Jar as I am truly fortunate to be able to do this.
Before anything though – there is the stop at the Bakery before checking in.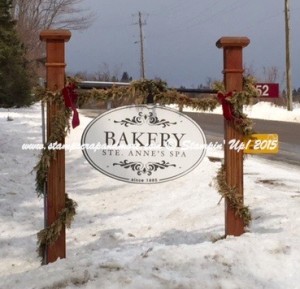 Once you park your car and start walking through the trees to the front entrance you can feel the weight and stress drop from your body… not an exaggeration at all – it is like magic.  I have friends that come here as well and we all experience the same feeling.
Day #1 – Parlour Suite
Hot Tub
Steam Sauna
Deep Tissue Massage – best way to start the destressing process.
Afternoon Tea
Meditation Class – what a way to turn your mind off
Whirlpool Soak
Dinner
Working on a puzzle in the Round Room.
Good Night
Thanks for stopping by,
Elizabeth, Your Stampin' Up! Demonstrator
www.stampscrapandmore.com