Hi Stampers
I hope everyone had a wonderful Christmas.    
I have another week off work and now that Christmas is over it was time to tackle the mess in my Studio / office and to get back in to the swing of things (I hope).
Now this is almost embarrassing…. this was the state the studio / office was in after the last workshop for the season.     In my quest to clean it up, I decided I needed to rearrange, purge, clean and declutter (is that possible for us paper crafters?)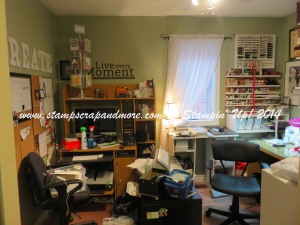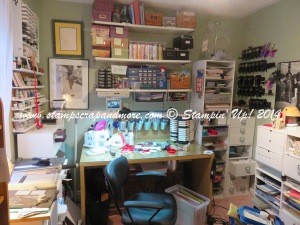 After a few trips to Ikea and A LOT of purging, this is what I have come up with.   It is still a work in progress.   The list is long of things I still want to do / add to the room, but I think this is a lot more inspiring then the clutter from the original pictures.     
My neighbours have taken the computer desk (picture above) for their son but the white Storage Cubes (not the tall one, but the other 3 stacked cubes in the pictures above) are up for grabs if anyone wants them.   I am sending an email to my regular customers – if there are no takers – they will get put to the curb.    
There is a downside to  rearranging your space though ….. I now have to get use to where everything is.    Before I could blindly go about making cards, now I have to remember where I put everything.   But I know eventually it will become routine.       It is a very small room but I think this will work….except for the carpet …. but that is on my list of things to change… it did get steam cleaned though.    
Oh… and one last thing… I will be doing my bestest to use up all of the retired DSP, ribbon and embellishments.   I have WAAAAAAY to much of it.    So what do you think?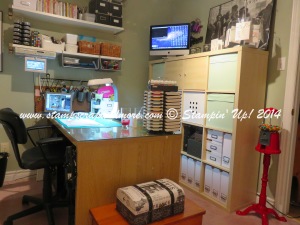 Thanks for stopping by,
Elizabeth, Your Stampin' Up! Demonstrator
www.stampscrapandmore.com