Hi Stampers
One of my BFF's needed a special card for someone that is starting chemo on Monday.     She wanted a card that was happy, to make the recipient smile and to let her know that she was thinking of her (without actually saying "thinking of you").      I know… sounds like a tall order … right?
I immediately thought of incorporating butterflies in the card.    Paired with some happy colours, some sparkle and a surprise inside, I think this card is perfect.     In fact I love it so much, this may become one of May's Club cards.     I intentionally left off any sentiment on the card so it could be used for a variety of occasions…. or just a simple "Thinking of You" (without actually saying "Thinking of you" :))
The Scoop
Butterfly Basics Stamp Set (the only stamp set used)
Butterfly Embossing Folder
Designer Series Paper (I used Painted Blooms – Retired)
Dazzling Diamonds Glimmer Paper
Tempting Turquoise Card Stock
Whisper White Card Stock
Bold Butterfly Framelits
Butterflies Thinlits
Tombow Liquid Adhesive
Tear and Tape
Snail Adhesive
Linen Thread
Dimensionals
The How
If you want to line the inside of your card with Whisper White – do this before adhering the butterflies.
Cut 5 butterflies using DSP of choice using the large die from the Bold Butterfly Framelits.
Fold each butterfly in 1/2.
Glue the tips (top and bottom of the wing) of one wing and adhere the second wing (lining it up to match).    Keep doing that until you adhere all 5 together in a string.   Don't glue the whole wing to each other (you can, but it will be a different look – see picture below).    You will end up with 5 butterflies glued together in a string with the first 1/2 wing and last 1/2 wing with no adhesive.     Use your Tear and Tape and put adhesive on the first wing and last wing.      Take the Tear and Tape off the first wing, lay it in the card.     Then take the Tear and Tape off the last butterfly and close the card.   It will pick up the last wing.
You can play with the placement.   If you place the first wing closer to the outer edge, the string will open up wider when the card is open.   Hope this makes sense.
Decorate the outside of the card how you wish.    I used the Butterfly Embossing Folder, a strip of DSP, another butterfly in Glimmer Paper, a butterfly in Tempting Turquoise and a bow.    Yes…. loads of layering.
I mentioned above if you glue each wing together you will get a different look.    This is an example of what it will look like.   Still nice, but not what I was after.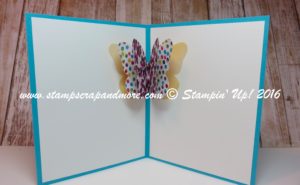 So what do you think?    It sounded like a challenging request but I think I did pretty good 🙂
Thanks for stopping by,
Elizabeth, Your Stampin' Up! Demonstrator
www.stampscrapandmore.com