Hi Stampers
I am playing a bit of catch up and wanted to share some projects with you from the 2017 Christmas Craft Fair Season.   This year I participated in two Craft Fairs in the area.     One was new to me, the Caledon East Public School.  The second fair was at the Brampton Fall Fair, Winter Craft show.   This was the second year for this show and for my attendance at it.     Both shows were awesome.     I have already signed up to participate in the Spring Craft Show at the Brampton Fair Ground.      Most of the product used to create these items are still current.. except for some of the card stock and Designer Series Paper.
Well… who can resist a visit from Santa – at the Caledon East Public School Craft Fair.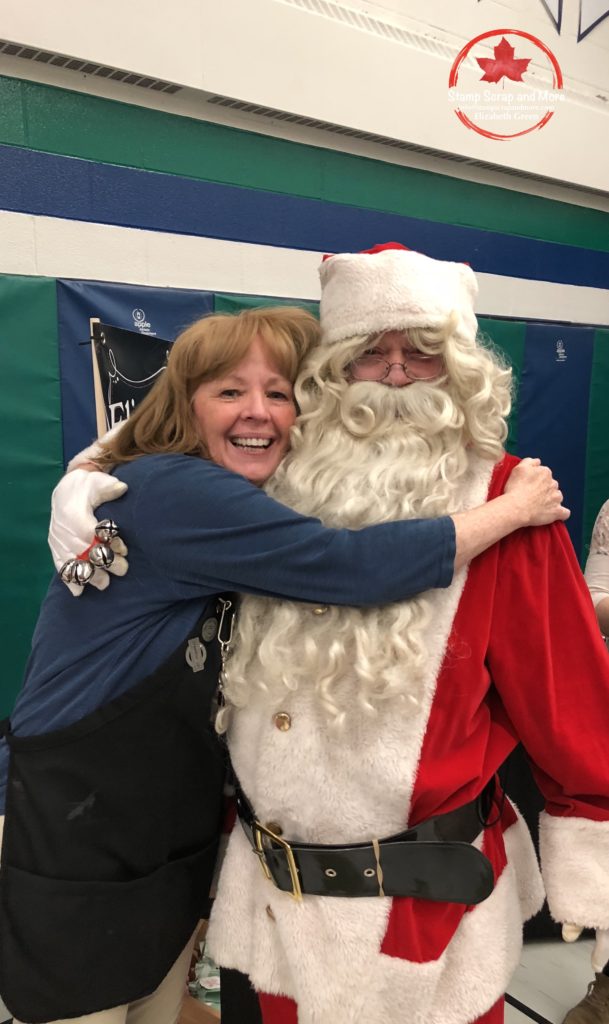 All set for the Brampton Fall Fair Winter Craft Show.    This was the second year for this event (and for me and the Craft Fair).   It was awesome and has grown from the first year.   I had a helper this year, Phoenix.   She was awesome and the help was appreciated and needed.     Thanks to everyone that stopped by to say Hi.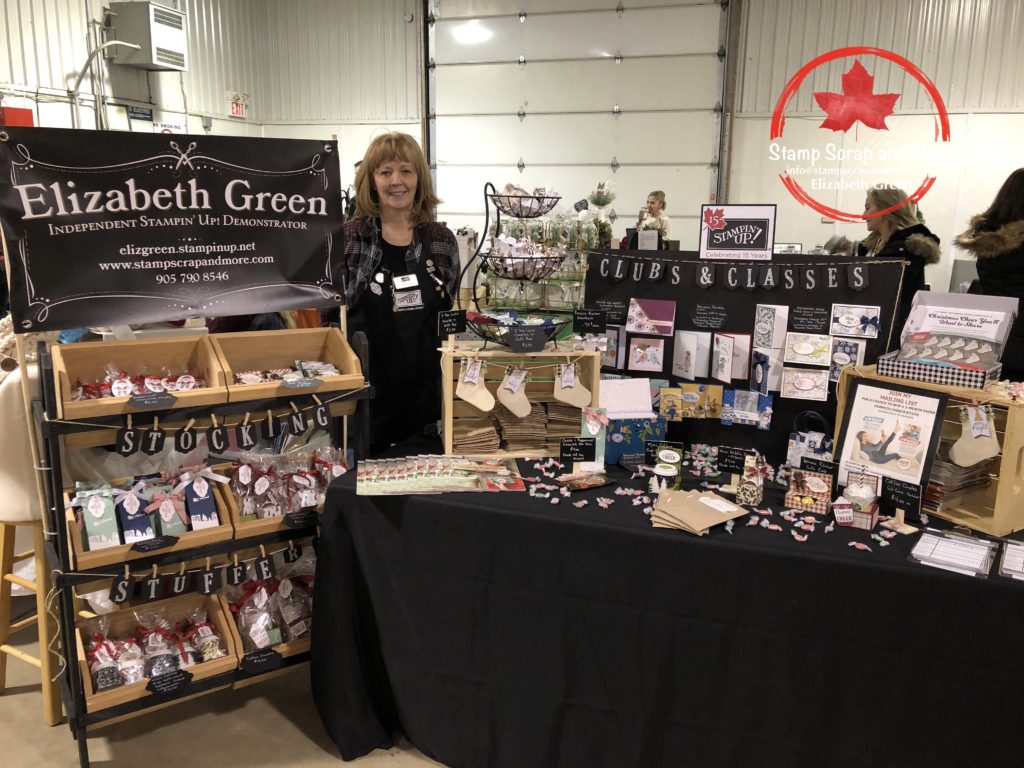 While my main goal at the Craft Fairs is to increase my customer base and spread the word about my classes and events, I do have some items for sale that brings people to my booth.
Beautiful gift box with tea light candles.   Check out the wrap on the candles.    Using some "aluminum ducting tape", run through and embossing folder and wrapped around the candle.    It really gives it that finished look.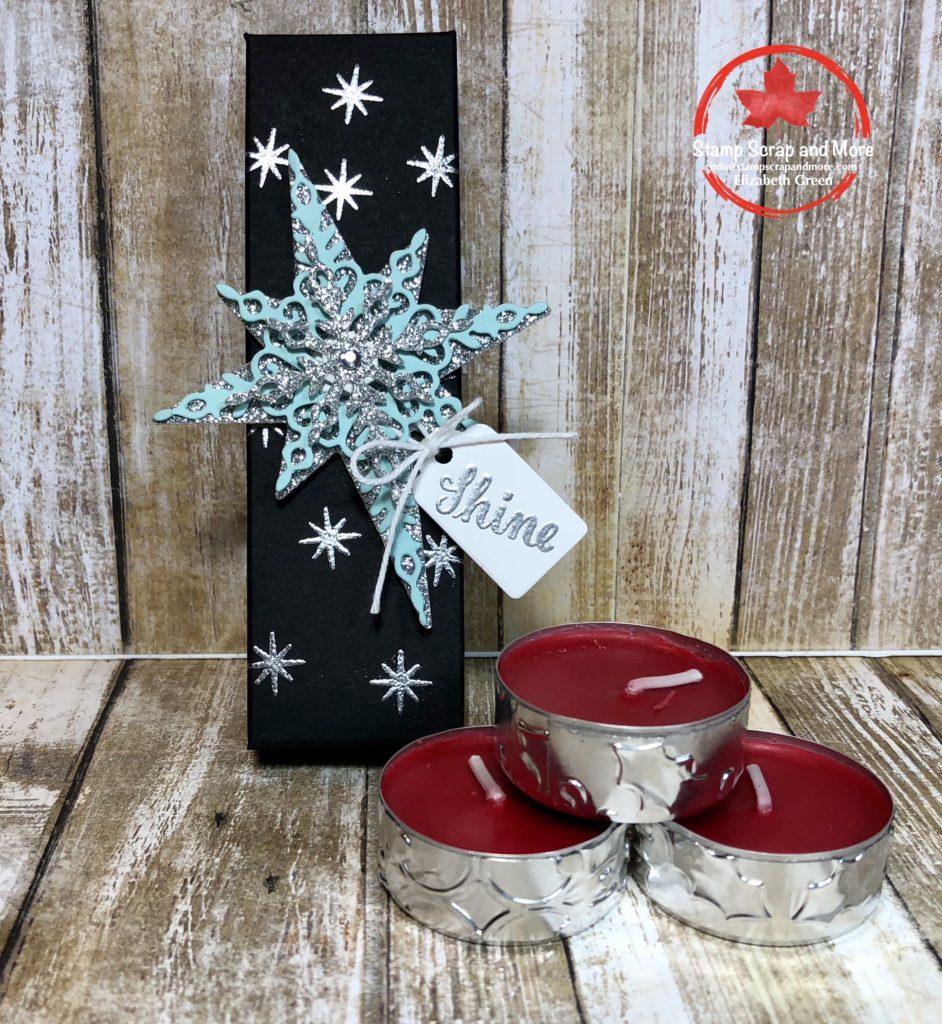 Candy Cane Chocolate (delish!) in a pretty presentation package.   Perfect to add to a stocking.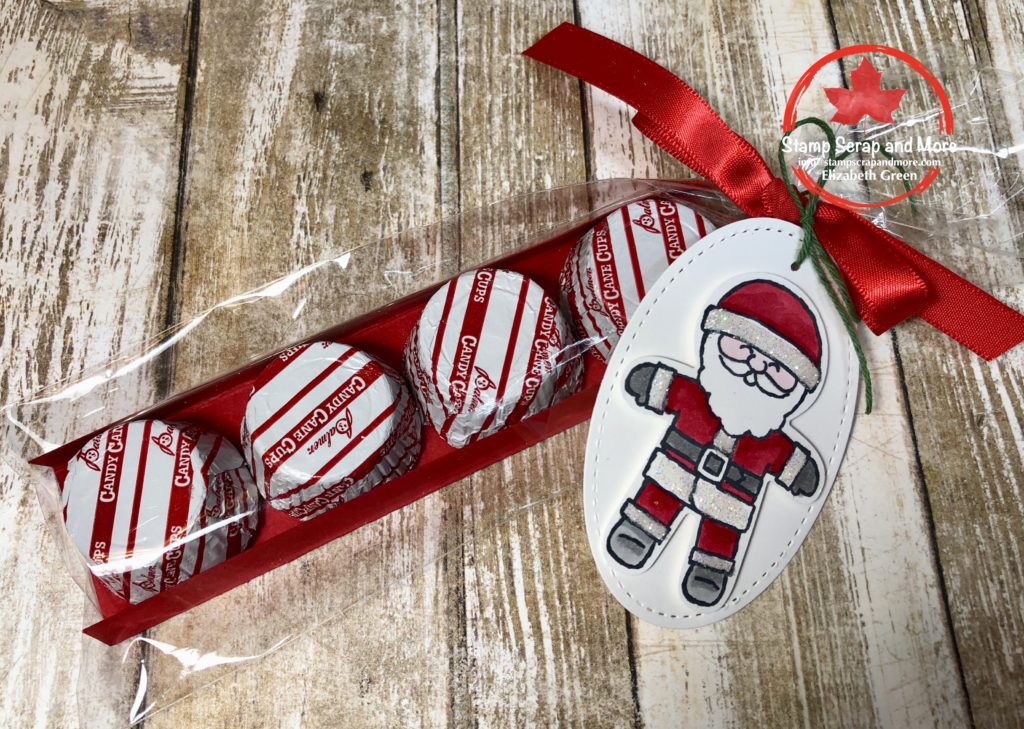 These were gorgeous and also delish!     Each bag contained a package of Hot Cocoa and a Chocolate Peppermint Stir Stick.    It is all about the wrapping and presentation.   These proved to be very popular.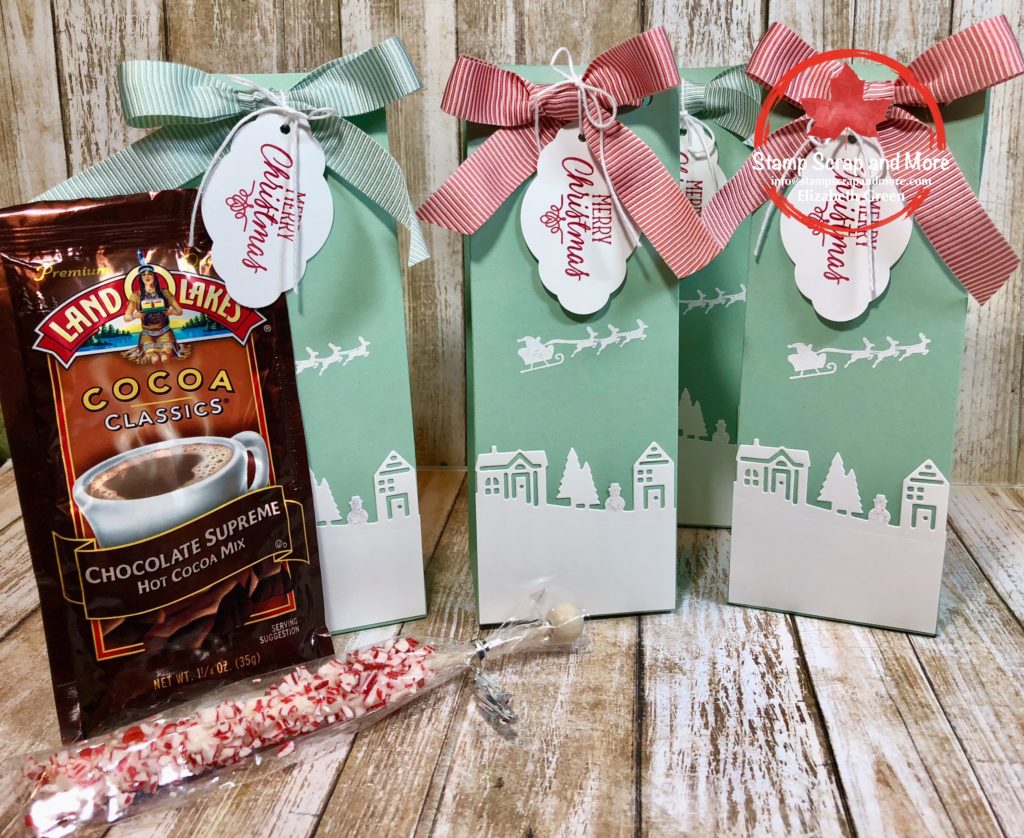 Lastly were the Mini Nutella Jars with spoon.   I KNOW!    These flew off the shelves.   Nutella is huge with the millennials.    I searched high and low for the jars.    Other than Amazon, I couldn't find them in Canada.   Word on the street (yes there is a crafting street!) was they could be found in Europe.    So on my trip to Croatia in October, one of my goals was to visit every grocery store I could find.   There were aisles and huge displays of Nutella… but no mini jars.     After some research I heard they could be found in the duty free shop in Rome.     Luck had it that we had a layover in Rome on the way home.    But…. they were also in the Airport in Dubrovnik so I stocked up.      The group I was travelling with were finally happy to know that I found my Nutella.   I think they were tired of me looking for them 🙂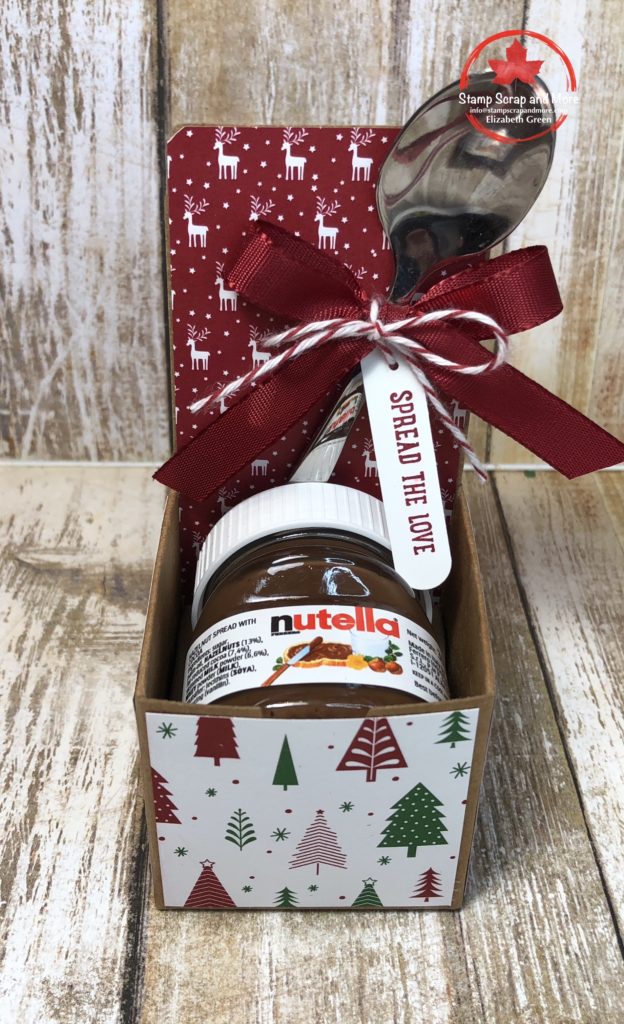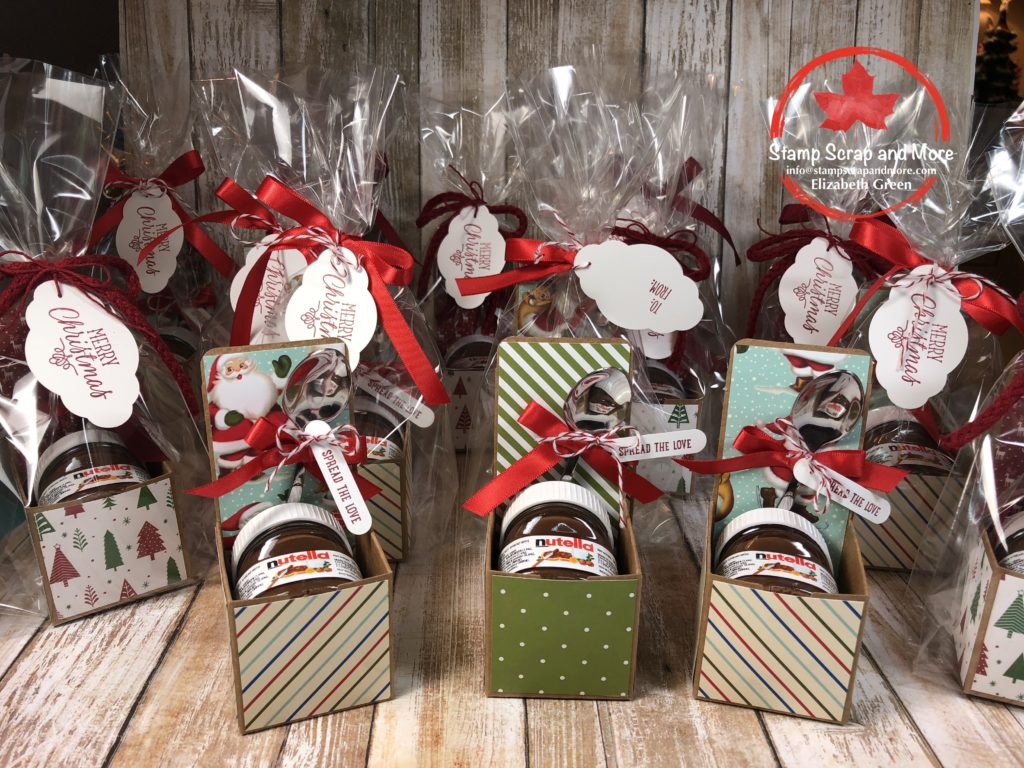 There you have it folks.     Some of my favs from the Winter Craft Fairs.    They are a lot of work (and very tiring), but loads of fun. If you would have told me 10 years ago, that I would be comfortable spending my day selling myself and talking to strangers about what I do, I would have thought you were crazy.   But when you truly love what you do and believe in it…. it is easy and fun!
Thanks for stopping by.
SaveSave
SaveSave
SaveSave
SaveSave
SaveSave
SaveSave
Thanks for stopping by,
Elizabeth, Your Stampin' Up! Demonstrator
www.stampscrapandmore.com