Hi Stampers
Last Wednesday I held another Coffee and a Card get together at a local Coffee Shop.   I must say that I am truly enjoying hosting these outings.    The coffee shop loves it when we come in and the Stampers are enjoying the excuse to get out of the house and stamp.    There is something very civilized about the get togethers… yep… I am loving them!   In the new year I am going to try and host a class at the shop and will let you know when I have worked things worked out.
This month I saw a card from a fellow Demonstrator from Germany, Carmen Morris… and it was stunning.    Her card was larger and I wanted to adjust it to an A2 size.   So this is the card that the group made.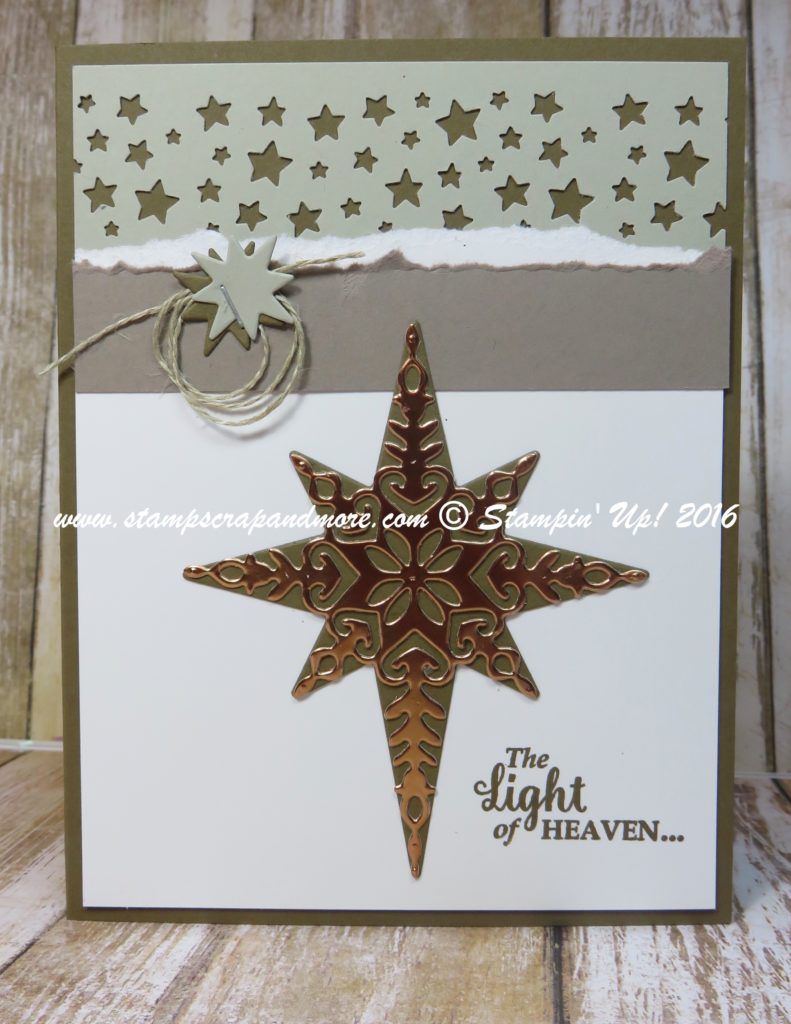 Thank you Carmen for the inspiration.     My customers know that I love what the European and South Pacific Demonstrators are doing.    This is a perfect example.    And well, you know me… any excuse to put a staple on a card makes me happy. 🙂
Here are some pictures of the group hard at work, enjoying the final result and a little bit of advertising at the shop.
The next Coffee and a Card has been scheduled for Wednesday October 12th at 9:00.   If you are local, come and join the fun.   The more the merrier.     I have also scheduled November's event for Friday November 11th at 2:00 pm.   I am testing out different dates / times to see what works (and fits best with my work schedule).
The Scoop
Star of Light stamp set
Starlight Thinlits Die
Confetti Stars Border Punch
Early Espresso card stock
Sahara Sand card stock
Tip Top Taupe card stock
Very Vanilla card stock
Copper Foil paper
Early Espresso ink
Linen Thread
Hand Held Stapler
Multi Purpose Liquid Glue
Snail Adhesive
Thanks for stopping by,
Elizabeth, Your Stampin' Up! Demonstrator
www.stampscrapandmore.com