Hi Stampers
I love Sundays.   The sun was shining, house was clean, laundry was done and a roast was in the crock pot.   It also helps that my craft room was  clean.  Ever since I moved into the new room, I have been very diligent at keeping it tidy.   I actually love going in there now – I find it very inspiring.   I keep adding bits / pieces to it.   I still have a few pieces to pick up but am being very particular.
Here are some pictures of what it looks like now…..it is small, on a budget, but I love it.
This is looking from my desk towards the TV (I can't craft without it).   I love the Kallax storage units from Ikea.  This one houses the cables for the TV/Converter/Router, Envelopes, Retired Ribbon, Cables/cords for electronic machines and in the open units are samples of previous classes.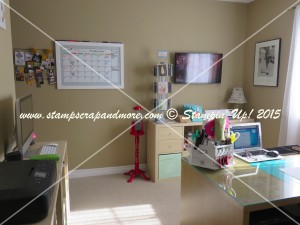 To the left of the TV is an amazing dry-erase calendar.  Don't you love it!.    I downloaded it from Darling Doodle on Etsy, had it printed on vinyl paper and then framed it.    It is under glass and you can use dry erase pens to mark the calendar.     The days, grid etc is on the vinyl part which is permanent and under the glass.  I change up the date numbers, add month to the top and am able to write "stuff" on the dates, under the "To Do" and "Notes".    This is perfect (for me) to keep track of upcoming classes, events and all things Stampin' Up!.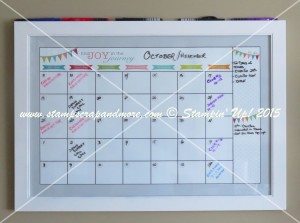 Against the wall to the left of my desk is another Kallax storage unit.   It also houses my computer and printer.    Again lots of storage for all things crafty.   Storage boxes house sample cards and cards that are for sale.    Smaller boxes for Dazzling Details, Embossing Powders and contraband (non SU products).  Embellishments are in the SU holder and another open shelf for samples.   I am looking for the perfect thing to put under the "CREATE".    This may be the spot for a bulletin board.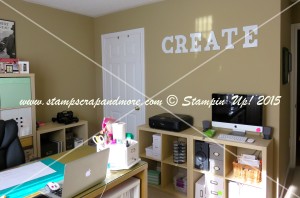 Behind the desk is another Kallax storage unit with a smaller unit beside it.    The larger unit has two Stamp n Storage lock-down punch holders.  They fit perfectly into the unit. The other cubes hold, retired punches, retired stamp sets, magazines (in the magazine boxes), adhesives, punch boards, etc.    Maximizing as much space as I can, there are two smaller bookcases tucked under the front of the desk that house my current stamp sets, DVD moves and glass bottles with embellishments.      The top of the back unit displays some of my treasures (doll house, dolls).      The smaller Kallax unit to the right of the larger one holds everything to do with embossing / die cutting, Big Shot, etc.    I have ordered a Wafer Storage Box and magnetic sheets from Stamp n Storage and can't wait to add it to the unit.   A little bit at a time.
And when I sit at the desk, to my right is this unit that I put on the wall.   Things I use on a daily basis.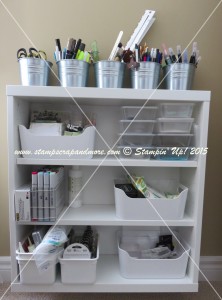 So where is my paper?    I have two (2-drawer) cabinets tucked under the desk to the left and right of my chair.   They house my 8 1/2 x 11 paper and are readily at hand.   There is space between the top of the cabinet and the desk…. my paper cutter is on one and my scoreboard is on the other.      My 12 x 12 paper is in storage bins.    My intention is to get two paper storage units from Stamp n Storage that fit the Kallax… but that is in the future.
That is my workspace and I love it.
Thanks for checking in and have a great week.
Thanks for stopping by,
Elizabeth, Your Stampin' Up! Demonstrator
www.stampscrapandmore.com