Hi Stampers
I had a question on the blog asking for a bit more information on how to make this specific card.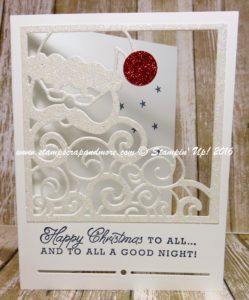 I walked through the process in the video and hope I answered all the questions.
Now I know why I don't do a lot of videos…. got almost done and the battery died.   Started over and I forgot to delete what was on the camera.   Ended up with a "Card Full" error.   I had to start over again.   Lesson learned, put in a new battery and clear the card before starting to tape 🙂
If there are any other questions, don't hesitate to ask.
Grab some popcorn and enjoy the video (just teasing).

Thanks for stopping by,
Elizabeth, Your Stampin' Up! Demonstrator
www.stampscrapandmore.com