Hi Stampers
I went to work today and showed this card to my "focus group" (OK… my co-workers :)) and I was giddy.   I am sure my boss thinks I am nuts… he is polite and says … "really nice"…. but doesn't understand how I could get so excited about paper and stamps.  But I know… dear reader…. that you understand.
This is a stinkingly cute card.   Lots of layers and is definitely not a card to mass produce, but it was so much fun putting it together.  The product list is below, but I wanted to give you some tips on what I did.
The garland at the top is actually two separate garlands.   I wanted it to be a bit thicker, so I stamped a second garland and fussy cut around it.   Then I layered it upside down on top of the first garland.   Just to give it more dimension.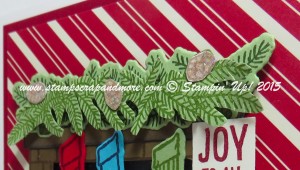 I stamped the garland again using Crumb Cake ink on scrap Crumb Cake card stock then cut the pinecones out separately and adhered them to the garland.   A bit of 2-way glue and Dazzling Diamonds to give the pinecones some sparkle.
I stamped the three stockings with a darker ink onto the card stock (Cherry Cobbler on Real Red, Night of Navy on Tempting Turquoise, Old Olive on Pear Pizzaz).   Again, just to give it more definition.
I stamped the fireplace with Early Espresso onto Soft Suede and cut the fireplace out… I also cut out the middle so you ended up with a frame.  I then cut a piece of Basic Black card stock that was just a bit bigger than the opening of the fireplace and sponged it with some Whisper White craft ink to look like smoke.   I then popped up the fireplace frame onto the Basic Black.  After colouring the logs with Crumb Cake and the flames with Hello Honey and Daffodil Delight, I glued it down directly onto the Basic Black so it is behind the fireplace frame. I also sponged around the fireplace frame with Soft Suede.   
Again adding some glue with a 2-way Glue Pen onto the logs and sprinkle with Dazzling Diamonds to give the flames some sparkle.
Add the fireplace to the card front, hang your stockings, place the cat and you have yourself a stinkingly cute Christmas Card.     I used the small banner punch and stamped the Joy to All in Cherry Cobbler onto Very Vanilla and adhered it under the garland.
You could easily make this a Halloween card, turn the garland into Orange / Fall colours, make the cat black.  Take off the stockings and use the Owl punch (remove the feet) as a caldron…. I haven't tried it yet and am not sure if the size of the owl will fit, but I am going to try it.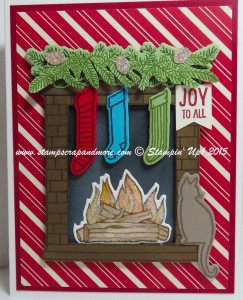 See…. I told you, Stinkingly Cute!   Hope you are inspired.
Product List
Links by TheseAreMyStamps.com
Thanks for stopping by,
Elizabeth, Your Stampin' Up! Demonstrator
www.stampscrapandmore.com