Hello Stampers
Back to travels in France for this post and it is now July 1st – Happy Canada Day.
As we gathered for breakfast today, Debbie gave us all "Canada" pins to wear – even though we were in France – we could still celebrate the fact that we are Canadian (plus one adopted Canadian – Linda from Arizona).
This morning we met our guide in Avignon for a short walk to the Palais des Papes.    Construction started in 1335 and held six papal conclaves.  It is now designated as a Unesco World Heritage Site and is a phenomenal structure.
There is a Szczesny art exhibition going on at the Palais right now and I find the art to be very "in your face" considering the building it is hanging in.   The Palais was full of his art but I only took a couple of pictures.   We all analyzed the first picture and I couldn't get over that the second picture is hanging over the alter.   In case you are curious – this is not my style of art:)
We then wandered through Avignon to see some of the sites.  It is a very walkable city, lots of side streets full of shopping, cafes, etc. – yet there are the enclosed courtyards that provide peace and quiet.
Our next stop was Les Halles covered market .   It is full of gourmet and speciality foods, flowers.   We all split up and found different vendors to buy lunch from.
After lunch our next stop is at Le Vin Devant Soi for some wine tasting….. really, can you think of a better way to end lunch at the market 🙂
Lori, myself, Judy and Debbie enjoying the wine.      Mary and Kathy doing some sampling – their fingers held up represents the day number of the trip.
After the Wine Tasting we all split up and ventured out to explore Avignon (aka shopping) on our own for a few hours.      A few of us kept running in to each other as we wandered throughout the old town.    It is true that a lot of shops close up in the afternoon – but we made mental notes of the stores we wanted to go back to.
Meeting up in the lobby of the hotel at 3:00 pm we walked over to our Cooking class.   I have no idea how we found it, side streets, back alleys, twists / turns.   Thankfully Patricia led us to the Restaurant Le Jardin De La Tour.     Since this was July 1st – Canada Day – Debbie and Patricia brought some Canadian decorations for the table.
What is a cooking class without hats and aprons (how I hope a picture doesn't surface of me wearing the get-up:))    Debbie, Owner of the Women's Travel Network ready to do some serious cooking!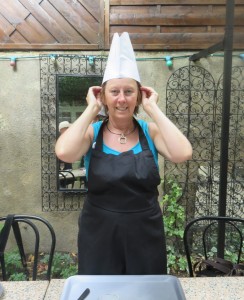 Chef Jean Marc walked us through the menu and instructions.
We did all the prep work in the courtyard.   It worked great until Chef  brought out the glasses for us to hold the Zuchini flowers while we filled them.   I lost count with how many glasses broke as they tipped over and smashed on the marble tabletop.   Julia Child… we were NOT!
It started to lightly rain just as we were ready to head inside to the kitchen.
What did I learn:
How to cut Artichokes
I realized that I don't like Artichokes 🙂
How to stuff Zuchini Flowers with a fish mousse
I don't like fish mousse
How to cook lobster
See #4…. I am not a huge fish lover
How to make green tomato rosettes
More work than it is worth 🙂
How to make creme brulee
Yeh.. I love creme brulee
How to mix a sparkling wine drink

I LOVED THE DRINK

….Andre Gallois Vin Mousseux Brut topped with Creme de Mure –

DELICIOUS!   
Are you curious as to what the final meal looked like:   Artichoke soup, Lobster with Zuchini Flower stuffed with Fish Mousse and a trio of dessert… topped with sparklers for Canada Day…. Eh!
Our class started at 3:30 and I think it was 10:30 pm before we started to walk back to the Hotel.
Now… that was a full day!
Thanks for stopping by,
Elizabeth, Your Stampin' Up! Demonstrator
www.stampscrapandmore.com