Hi Stampers
As a child our family use to go camping every summer.    My Dad would hook my bike to the back of the trailer so I had it when we arrived at our destination.     I have a vivid memory  of my Dad riding my bike at one camp ground (truth be told.. he rode it to the outhouse at the other end of the camp ground :)).       Why was it is such a memory… because I had never seen my Dad ride a bike before and I remember laughing and thinking… but Dad's don't ride bikes and it is a girls bike!.   I was surprised that he knew how to do it.. I thought it was just what kids knew how to do… not grown ups.     Isn't it funny the memories that you have and how they come about.     When I saw this stamp set, that was the memory that came forward… and it made me smile.     48 years later and I am going on vacation this fall.   One of the things that sold me on this upcoming trip was spending a day bike riding and visiting local villages at the destination.    And in case you are curious it has got to be 20+ years since I was last on a bike.    I will share all about that in the months to come.
I originally received this stamp set as a Prize Patrol at OnStage.    Then I saw it had a co-ordinating framelit… be still my heart.    When Demonstrators were able to order from the catalogue, the Framelit was the first thing on my list.      Check out this picture… me "very happy" to have won Prize Patrol, but even happier to receive it from Carrie from SU Canada head office.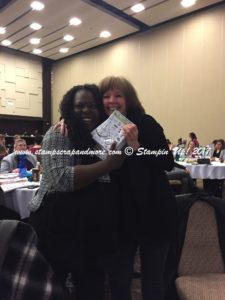 This is one of July's Club Cards.   I love the simplicity of this card but it has that pop.    A bit of bling and that red leather seat (ok faux leather!)     The seat and handle bar grips were covered in the Fine Tip Glue.     For me a card is all about the added detail.    The stampers used the small splatter from the Timeless Textures stamp set at the bottom to represent pebbles… but it was too one dimensional for me.   So we used the Softly Falling Embossing Folder to emboss the bottom of the card for that extra bit of details.      The sentiment is from the Colorful Seasons stamp set and is the perfect addition to this clean card.    One last bit of detail is the "bolt" on the left hand side of the bike frame.    When you stamp the image it leave a clear spot.    We used the Basic Black Stampin' Write Marker to colour in that white spot.
What do you think… isn't this a toooooooo cute card?
The Deets
Bike Ride stamp set
Timeless Textures stamp set
Colorful Seasons stamp set
Smoky Slate card stock
Whisper White card stock
Silver Glimmer paper
Smoky Slate ink
Memento Black ink
Real Red ink
Basic Black Stampin' Write Marker
Big Shot
Softly Falling Embossing Folder
Fine Tip Glue
Mini Glue Dots
Snail Adhesive
Tombow Multipurpose glue
Dimensionals
Thanks for stopping by,
Elizabeth, Your Stampin' Up! Demonstrator
www.stampscrapandmore.com