Hi Stampers
It is amazing how quickly your mind forgets details when you travel.   It seems like one day melds into the next.   The longer I put off capturing this marvellous journey to Morocco, the harder it is to journal.     I am thankful for the date / place stamp on pictures to jog my memory, along with some of my travel partners posts.
October 15th we started off with a tour of Fes.      From the old city, the souks, learning all about carpets, mint tea, the tanneries, artisans and my constant confusion over the currency (which I never did get right… but you know me and math!)
View from the terrace of our Riad Maison Bleue (absolutely gorgeous) and the grounds of the Riad Maison Bleue.   It was a stunning hotel.
Looking over to the old Medina in Fes.
Making our way to the Souks of the Old Medina.     The camel head outside a shop means they are authorized to sell camel meat.    We were wondering where we were heading, going down narrow alleys …. the noises, smells, mix of animals, carts.    There were a few words that we learned very quickly…. Ballack was one of them.    The markets are very narrow and the mode of transport is donkey and cart.   If you hear people yelling "Ballack"…. move out of the way.
We also found one or two carpet stores.   A few of the ladies made purchases, with a few of them going home with more than one carpet :).   This is Sue with her new purchase.   It is amazing how quickly they fold the carpets and wrap them for shipment.    One of the young men at this carpet shop had just moved back to Morocco.. he had been living in Canada.   Without knowing where I was from, he said he use to live in Brampton.   I am on the other side of the world and run in to a Bramptonian.   Small world.
We headed for lunch and enjoyed the "Mint Tea" service.    It really was delicious!
A typical store front showing a Moroccan rug and pottery.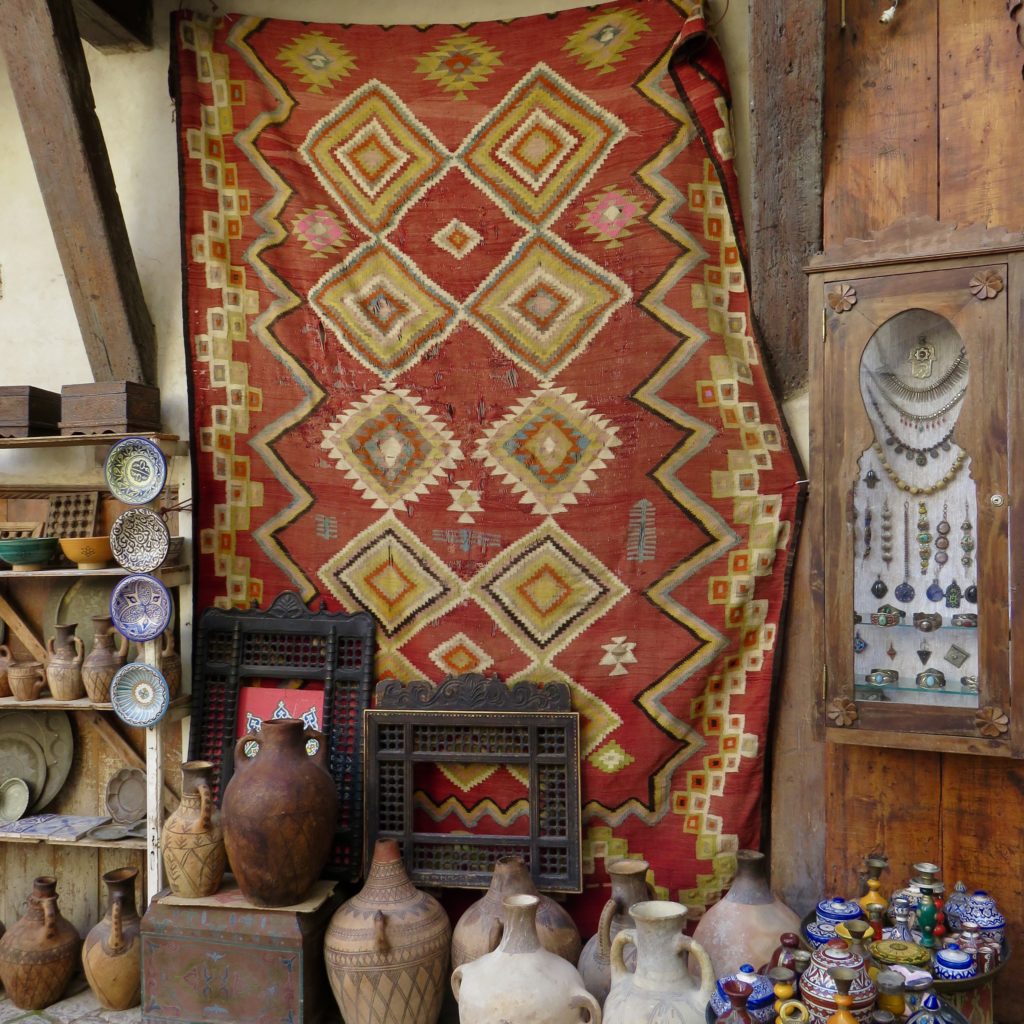 Next we made our way to the Tanneries.     This is where they clean and die the leather skins by hand.    When you make your way up the stairs to the top where you can overlook the tanneries you are given a sprig of fresh mint to put under your nose.   AND YOU NEED IT!    The leather skins are cleaned with pigeon poop and it STINKS!   I can't image the men that are working in the vats and smelling that all day.    Everything is done by hand.     It was great to see this century old tradition going on, but will admit that to get up to the top to see the Tanneries, you are taken through one of the MANY leather stores.    And you have to exit the same way.    Then there is the sales pitch.
We then visited a Moroccan Co-Operative Poterie de Fes where Moroccan men made intricate pottery and tile work.
It was a full day and we finished with a delicious dinner and were entertained by our guide Kalidia Hajja Hilm
Here is a quick video of our guide singing.
If you are curious as to what I have been working on "on the Stampin' Up!' front"… I have been super busy getting ready for my first ever Vendor and Craft event that will be happening on December 10th at the Brampton Fall Fair, Christmas Vendor and Craft Event.   (wow.. that is a mouthful).    I will be sharing projects with you over the next while and if you are local, I would love for you to stop by and say Hi.
That is it for me this evening.   I hope you enjoy seeing pictures from my gravels.
Thanks for stopping by,
Elizabeth, Your Stampin' Up! Demonstrator
www.stampscrapandmore.com