Hi Stampers
Today is our last day in Fes.    We are up early this morning and are heading to the market to purchase everything we need for our cooking class today.     When I say everything… we even picked out 5 fresh chickens.    It was an early start and a lot of the stalls hadn't opened yet.    I am not sure what we were all expecting but the first stall we got to was for the chickens… and we all quickly recoiled when we realized that the chickens were being prepared "fresh" while we waited.     There were animals roaming, donkeys bringing in goods, cats everywhere… it was an experience.
The Riad we were staying at is also where the Cooking School was located.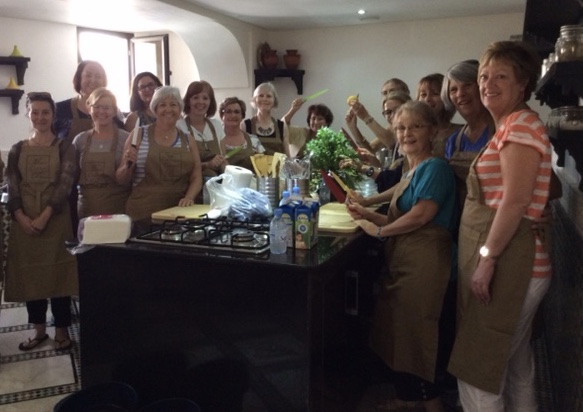 Everyone chipping in.
We were suppose to finish cooking in time for lunch but things went longer then expected.     We had a Hamman booked for the afternoon and had to leave before everything was ready.    But the good news is after the Hamman we came back to the Riad, and they had held the meal for us and we ended up having it for dinner.      It ended up working out well, as it was a long day and we were to be up very early the next morning for a long drive to the Sahara.
Here are a few of us in the Hot Tub waiting for our turn in the Hamman.    It was a Western Style Hamman and therefore 3 of us that went in at a time to be scrubbed and buffed 🙂
Before leaving the Riad Maison Bleue, Lori and I made a video of the route from our room to the main lobby.    Our room was at the top of the Riad and we got lost more than once trying to get to the lobby.   The second night we were heading out to dinner, we took a wrong turn for the second time and ended up in an alley.   Obviously we were getting lost and figured that we should go through a different door.    Unfortunately the door we decided to open up, led us into a man's room, who had his back to us and he was NAKED!     Lori and I closed the door and ran like 12 year olds out of the hotel and into the alley.     We finally figured out what the wrong turn was but I will admit that every morning at breakfast we looked at all the guys differently.    Here are the videos from our room to the lobby.

Thanks for stopping by,
Elizabeth, Your Stampin' Up! Demonstrator
www.stampscrapandmore.com