Hi Stampers
When I told people that I was going to Morocco (I had booked it over a year before actually going), the one thing most people said to me was "why would you go to Morocco?".     Well folks, it was a bucket list item for me, especially seeing and experiencing a night in the Sahara Desert….. oh… and you can't forget the Camel Ride (ok.. I know it is technically a Dromedary but who really says dromedary ride :))
This really was an early morning start, our goal was to get to the Sahara for sunset and it was a good 8 hour drive through the mountains to our final destination.     Our first quick stop was at Irfan, also known as Little Switzerland.   There wasn't much open when we arrived, but we were able to grab a coffee and stretch our legs.    Most of Morocco is a shade of brown.. this was a lush green.
One of the stops we did make on route to the Sahara was at this Berber Nomad's home.    In the middle of nowhere.. not a tree, patch of green to be seen on this side of the road, was this tent.   Our Moroccan guide had the bus driver stop and she approached the tent to see if a group of women from Canada could come in and see how they lived.   There was some green across the road and her Husband had taken a farmer's sheep across for grazing.     The lady was in the midst of making her daily bread and invited us in for some mint tea (a staple in Morocco) and some bread she had made the day before.
Check out the lamb tied up outside the tent.   It was born the day before and the umbilical cord was still attached.   There were chickens running around, they had a separate tent with a clay oven.  The side of the tent we all sat is where the slept.   She had taken out the mats to air out and when we arrived she brought them back in for us to sit on.    Our Guide translated as she made her bread and we asked questions.    She apologized for not having enough cups for all of us to have our tea at once and offered to make it in two batches.   We were OK and shared.   (Truth be known we were all concerned about tummy issues in Morocco and ended up just sharing a sip!)
Here we are sitting in the area they sleep in.      When we were leaving we gave her some money and granola bars and treats we had on the bus.   One of the ladies had an old makeup mirror and gave it to her.   She looked at herself in the mirror and smiled.      They were only going to be in the area for a few weeks more as it was starting to get cool for them.   They would be packing up and making their way about 90 miles south.    This whole experience was VERY humbling and emotional.    I hugged our Guide and thanked her for the stop.   Who knew that a little stop could be such and inspiration.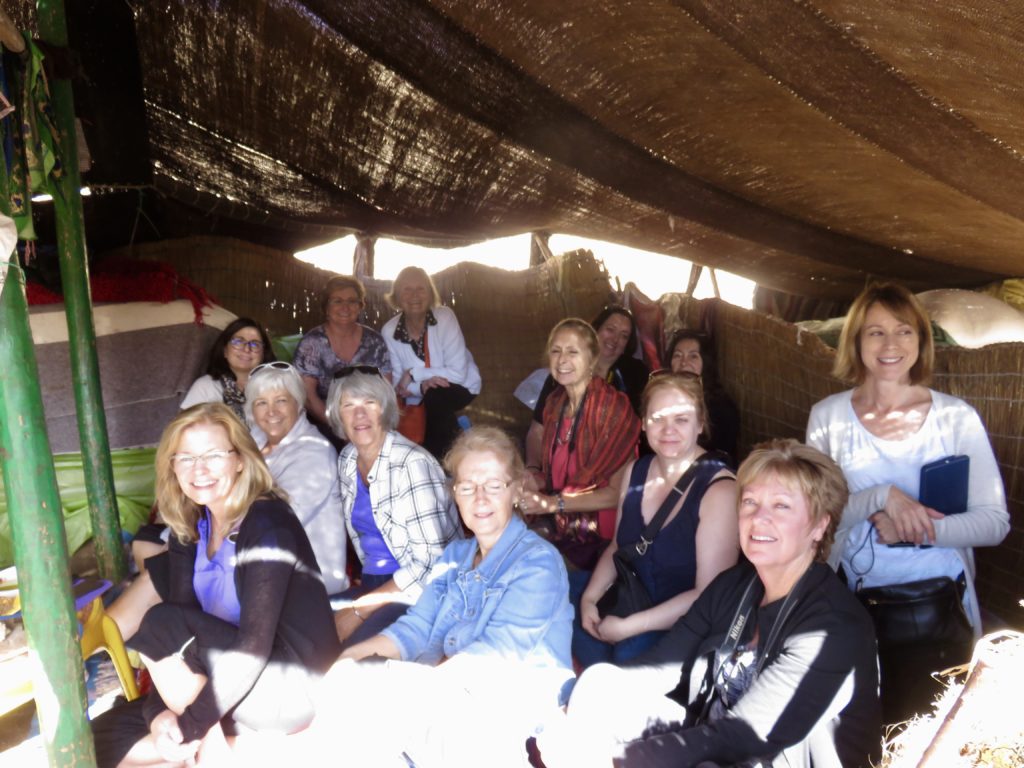 We continued through the Middle Atlas Mountains, the High Atlas Mountains and on to Erfoud.    Security in this area is obvious as the Algerian border is not too far away.   There was nothing to be alarmed about, but we did have a couple of Military road stops.     At one stop our Guide was giving the patrol guys a hard time as it was getting late…. she was telling him (in Arabic) that if the 16 Canadian women miss the sunset in the desert, it was all his fault. While we couldn't understand what she was saying, you could tell she was giving them heck:)      When we arrived in Erfoud everything was a W-H-I-R-L as it was getting close to sunset.      We arrived at a Kasbah and left all our belongings but one bag each.        Waiting for us to take us on the next part of the journey  were  5 Tuareg's  with 4 x 4's .      It was about a 1/2 hour ride, some on road but most on the rocky plateau before you get to the edge of the desert.      We all split into the 5 4 x 4's and the Tuareg's RACED each other to Merzouga and then through the rocky plateau to the edge of the desert.     It was hilarious.    They couldn't speak English but we communicated with laughter at every bump and pit they found to drive over.    Then we come to the edge of the desert and round a corner to find our final ride…… THE CAMELS!
This picture was taken by Colleen and I absolutely love it and wanted to capture it in my journal.      She was on the lead camel.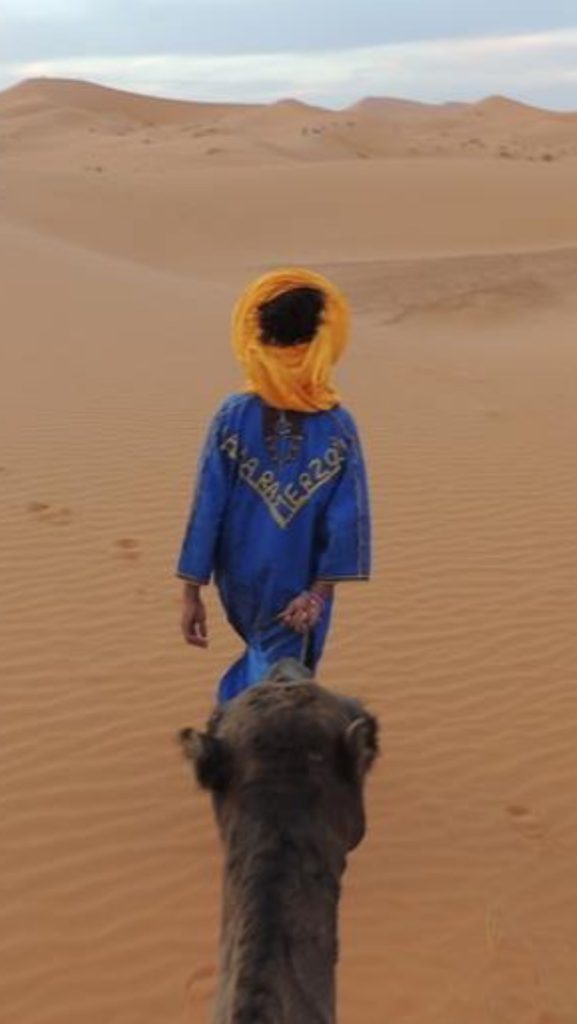 We made it…. but it was cloudy so there was no spectacular sunset, but you know what… it didn't matter.    We all came for this amazing experience and it was just beginning.
After our ride up and down the dunes we arrived to what has to be THE MOST welcoming, emotional, brilliant scene we could have imagined (actually I don't think any of us could have imagined this).
I still can't believe that I have "been there, done that".    It was an amazing surreal experience and I am grateful that I had the opportunity to do it!      Our accommodations for the evening were courtesy of Gold Sand Desert Camp and it was awesome.      We were two to a tent, and  there was no roughing it here, beds, with heavy blankets, toilet, shower and running water and the sand floors were covered in Moroccan rugs.   The funny thing about the water in the sink, when I was washing my face at the end of the night and drained the sink, all that was left was sand.
For days before arriving at the camp we kept asking "will there be wine… if not we want to stop and get some".    A special phone call was made and we were assured there was wine.   Except there was a miscommunication and it was thought that we "didn't want wine" (I KNOW!)    When we arrived at the camp and our Moroccan Guide realized there was no wine, she sent one of the Turaeg's out into town to get the wine.   Whew.. the night was saved.
Being the Space Geek (not really but it is a work thing), the International Space Station flew over and we were all able to see it quite clearly – one of the guys at the camp actually pointed it out as it arched over us.    Then the stars came out, the milky way, the moon… it was a feast for the eyes watching the sky.
We sat down to a delicious dinner under the moonlight and stars while the candles outside the tents sparkled in the night.    And modern technology is never too far away.   Yes there was a generator at the camp.    There was a charging station for all of our electronic devices.     This is the ultimate in luxury camping in the Sahara Desert.
Some late night chanting by the fire pit, more wine then an amazing nights sleep.   What can I say, this was a day that will be filed away in my memory bank for years (and decades) to come.
Thanks for stopping by,
Elizabeth, Your Stampin' Up! Demonstrator
www.stampscrapandmore.com