Hi Stampers
I am constantly looking for ways to store my "stash".   Like many paper crafters, I like things to be organized.   Don't get me wrong.. it doesn't always stay like that, but in the end I like everything to have a home.
I have seen many ways to store thinlits and framelits and have tried a few myself.   I started off with keeping them in their folders in a basket.  It was great at first, but as my stash grew, I found it cumbersome to have to go through each folder looking for that "bow" that I wanted to use on a wreath.   You know the excitement you get when you are creating a card and things are working out.   Well you (I really mean me), don't always put the die back in the folder right away.   An hour later, your desk is full of scrap paper, stamps, ink and that little bow shaped die that you forgot to put away.    Sweep your desk off into the garbage and you know what happens next.   You are finally putting everything away and realize you are missing that one die.    I was tired of going through the garbage.
My next storage idea was an ArtBin specific for storing these thin dies.    Perfect.. right?   It was until the magnetic sheets started to curl on the edges and warp.   They were no longer holding my dies in place and they would fall off the magnetic sheets.   I found I wasn't able to put all the dies on a sheet and would often find the smaller dies (yep, that bow again) at bottom of the bin.
Well a few years ago I found Stamp n'Storage.   I had ordered two Lock Down Punch storage shelves back then that fit into Ikea furniture.   They were perfect and a great way to have my punches at hand.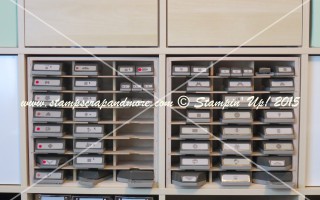 So naturally when I wanted to look for a new way to store my thinlits/framelits, I turned to Stamp n'Storage.    I ordered the Medium Wafer Die Tote and two sets of Magnetic Cards a few weeks back when they had a sale.    I received them on Friday (see below for info on shipping to Canada) and must say, they are PERFECT!    Don't under estimate the amount of dies you own though.  At first I thought I wouldn't need 2 sets of Magnetic sheets (40 in total) but it turns out, I will have to order more 🙂    Now I can easily see the die I want, take the whole sheet to my desk and place the "bow" back on the sheet (not in the garbage) when I am done.     The magnetic sheets are laminated to chipboard for extra strength.
You also receive dividers that you can use to separate them into categories.  I use my divider to separate current from retired.    And you also receive stickers to label them.
I still have a few things on my wish list from Stamp n'Storage (paper holder for the Ikea shelves, embossing folder holder, another Wafer Die storage), but a little at a time.
Now.. on to the shipping.   Shipping within the US from Stamp n'Storage is free for over $80.00.  Since I am in Canada, I wanted to take advantage of the free shipping.    The first time I ordered from Stamp n'Storage I used an address given to me from UPS in Lewiston.   It was great, but I had to drive to the US to pick it up.   You are only charged if they receive a package from you (depending on the size from $5.00 up).   This time I tried using Cross Border Pickups and it was so easy.   They assigned me an address in the US.   My item was shipped there (for free).  Cross Border Pickups received it, cleared it through customs and brought it to their warehouse in Mississauga where I picked it up 2 days later.   Easy Peasy.   And what did it cost… $9.00 for them to clear it and bring it to the warehouse plus $12.98 in HST.   There was no duty as it was made in the US / wood product.    I will definitely use Cross Border Pickups again.    And if you order from the US a lot, they will hold your items and consolidate your shipment into one.    If you are not local to Mississauga they can arrange to ship the items to you via Canada Post.
Well there you have it…. yes,  I get excited when I find the perfect item from my craft room.
Have a great week.
Thanks for stopping by,
Elizabeth, Your Stampin' Up! Demonstrator
www.stampscrapandmore.com