Hi Stampers
I hope you are having a wonderful Sunday.   Did you know that Sunday's are my favourite day of the week…. well.. until 7:00 pm that is when I realize that I have to work tomorrow.  But wait… not next week.  I am on vacation.  No big trip this year… but the next best thing.   I am moving my Studio Space to the middle bedroom.   I had all the furniture removed a few months ago and painted the walls / trim.   The carpet will be replaced this week and then I will then move the furniture over.   There is a free program online called Room Sketcher and I have been playing with that for the last month… but I am a visual and can't wait to actually see it come to life.   Once that is done, I will repaint, carpet the third bedroom and turn it into a pretty little guest room.   I am almost as excited about that…. chandelier light, nice art work, pretty bedding.   But one room at a time.  
But I know that isn't why you came here today.   I have another card to show you utilizing product from the Holiday catalogue.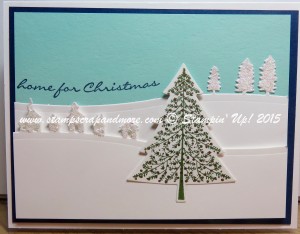 This card utilizes two separate bundles from the Holiday Catalogue.    I listed the Stamp-a-ma-Jig as a product used on this card.   I am usually a "wing-it" stamper, but for this stamp set I really want the sentiment placed perfectly in the curve of the edgelit….. I had to dust off the "jig".    It is hard to see on the picture, but one of the two step stamps for the tree is little dots that goes over the tree.   I stamped the dots in Encore Gold then embossed it with Gold Embossing Powder.   It is very hard to see.   If I were to do it again, I would use a lighter green and/or red embossing powder.   
Won't be long now before you can order from the Holiday Catalogue.   Mark the date of September 1st
Thanks for stopping by,
Elizabeth, Your Stampin' Up! Demonstrator
www.stampscrapandmore.com