Hi Stampers
I am so behind on the blog and still have lots to share with you from OnStage.   I am playing catchup and over the next few days will post the rest of the OnStage display pictures, the Club cards for April, the Thank You cards for April (oh yes I am behind), Open House info and some exciting news about a BINGO event that is coming up in June.     Behind the scenes I have been working on some new events that I hope you will love.    Some fun times coming up.
Today though, I am going to continue with the Samples from OnStage.    Also… for those checking in (I have had quite a few message regarding the "For Sale" page… I will be updating that and removing items that have been sold.
The cards below showcase the new "Happy Birthday" thinlits die, the new Designer Series Paper "Delightful Daisy" some new embellishments and some of the new In Colours.
In the card below, I snipped the Happy and Birthday apart to use just the Happy.    The word Anniversary and banner are current items that will be carrying over.      When sent the product we were told that we could incorporate other product into the mix.    As Demonstrators we were given the names of 3 or 4 stamp sets that were  carrying so we could use them for our swaps cards.    I tried to use those in the mix so that I knew I wouldn't be using retiring product.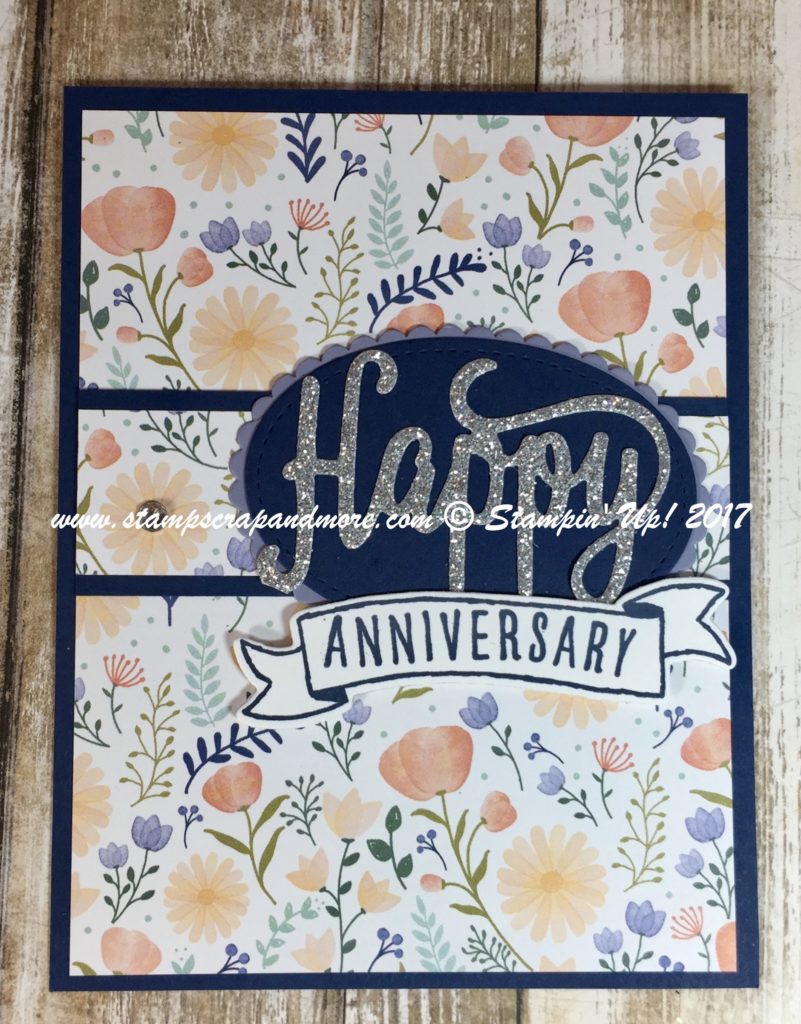 You can see from the card below that the "Happy Birthday" is quite large.     Some were confused with the Retiring List as the Rhinestones and Pearls appeared on the list.   But…. there is a legend at the bottom of the list to indicate that they were being reconfigured.    Good news… you know that strip of connected rhinestones… they are no longer.   Yeh!   I don't know who ever used those.    So now it is an assortment of individual rhinestones or pearls.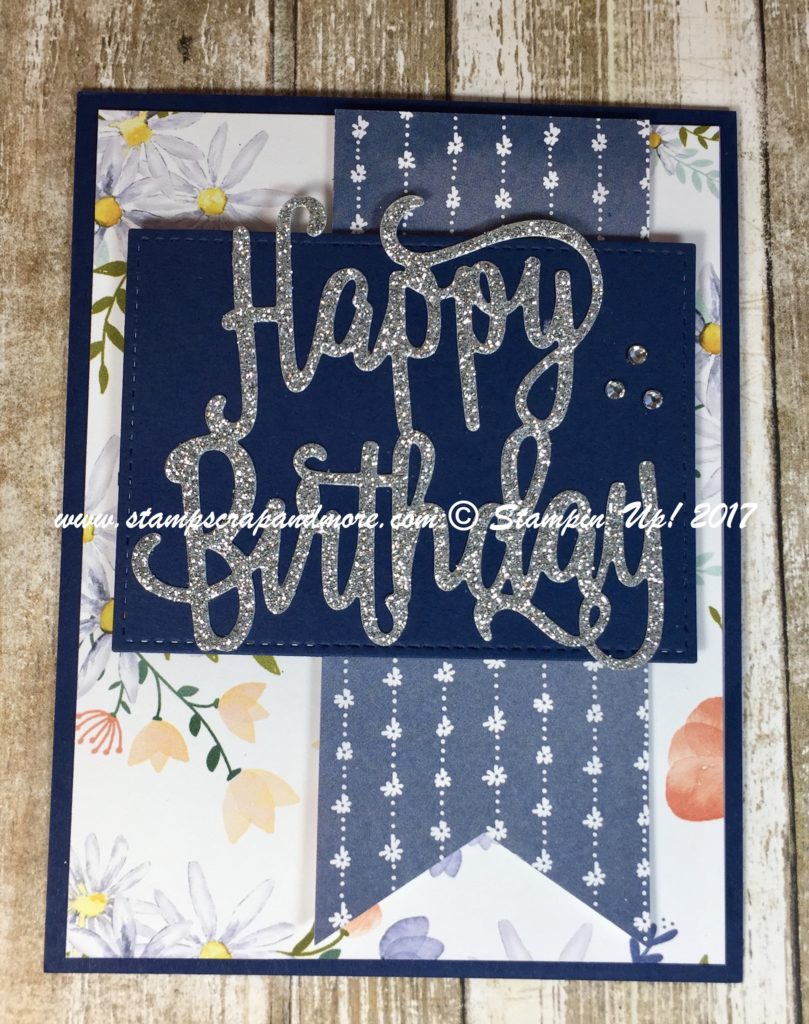 Again, I snipped the words apart.    I love this card… it also showcases the new Lemon Lime Twist colour… it is such a happy card.    Vellum was used on the back of the Happy.    The "Just So" and "For You" is from a current stamp set.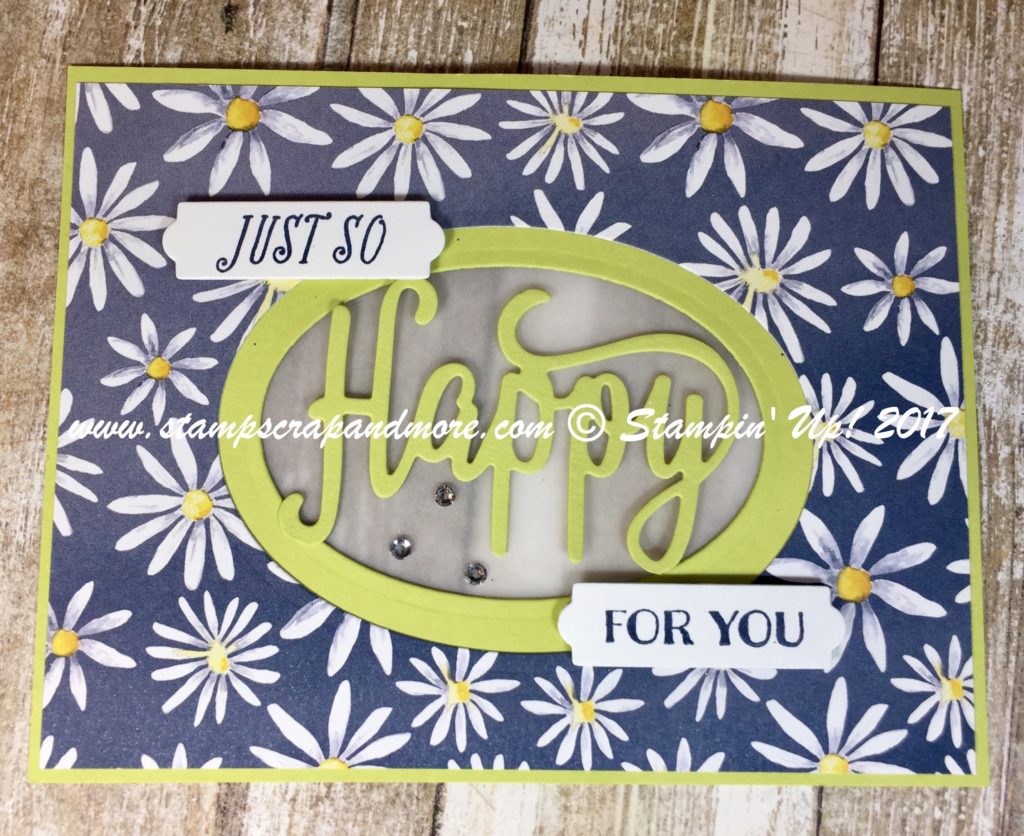 This card is more of a technique.    Another new (or returning) item in the catalogue is Glossy Paper.    For this card  I used the waxed paper resist technique  (crumpled waxed paper, ironed over the glossy card stock then colour brayered  over the whole card and then wiped off… every card is a different pattern).   The ribbon and clip on the side are also new product.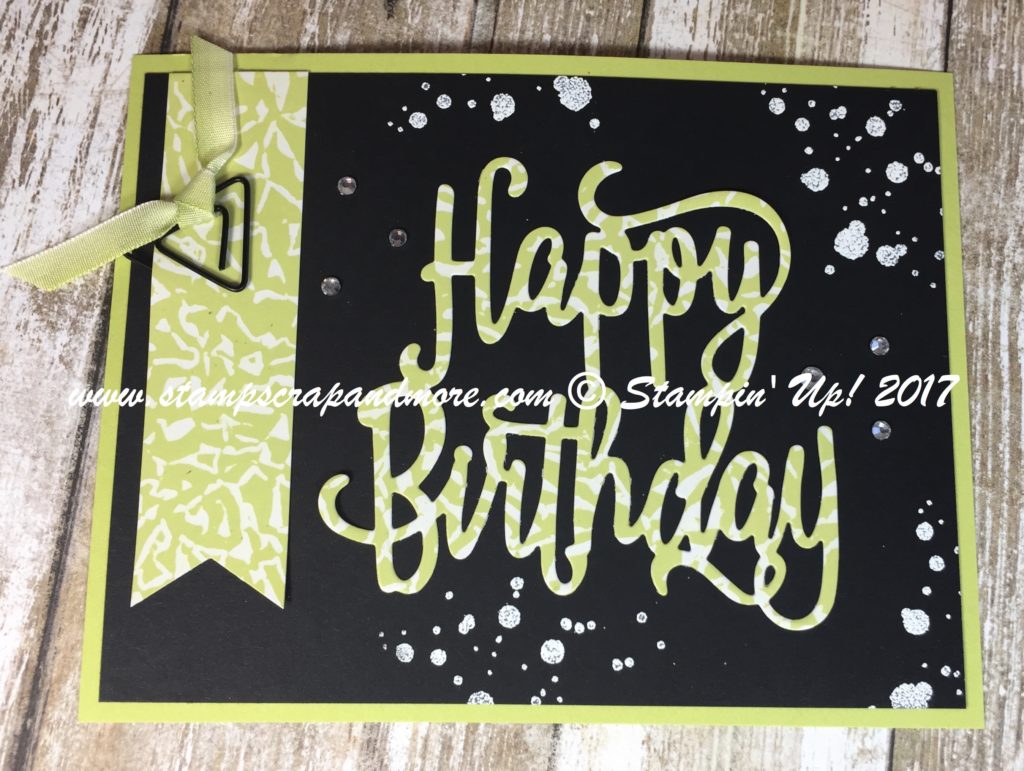 Thanks for stopping by,
Elizabeth, Your Stampin' Up! Demonstrator
www.stampscrapandmore.com