Hi Stampers
Wow… it HAS been a while since I posted.    Not to fear, I have been spending lots of time getting crafty and will post some projects over the next few days.
This month I was able to get away for a few days to the Ste. Annes Spa.    This was my 6th year going to the Spa for my birthday.   I love the downtime, being pampered, reading, reflecting and enjoying the ambiance.      I usually drive, but this year the weather wasn't great so at the last minute I decided to take the train.     I was dropped off at the Airport, caught the UP Express to Union Station, then took the train to Cobourg.    The Inn picked me up at Cobourg for the final part of the journey to the Spa.      I can't say enough about this place.   If you ever have the opportunity to go….. DON'T HESITATE.    I have some tips to make it a great escape and more cost effective:
Sign up for the Ste Anne Newsletter.  Once  a month they have a contest for a free spa service.    I have always gotten through and have won some wonderful treatments.   They are not good on current bookings and you have 3 months to use it up.   If you are planning on going to the Spa, do the contest first.    Last week I got through again for another treatment… hum… is there another stay in my future 🙂
I always book a Deep Tissue Massage.    I am able to recoup the costs for the massage from my work health plan.
I signed up for the Rewards Program.    This year  I was able to cash in $100.00 and put it towards the cost of my stay.
I cashed in Aeroplan points for an Amex Gift Card and used it towards my stay.
Lastly, my bosses know me 🙂     For Christmas they all got together and gave me a Ste. Anne's Spa Gift Certificate.    Yes.. I have great bosses!!!
I like to stay in the main Inn, preferably in the older section.   They all have wood burning fireplaces.   The newer section is nice as well, but they have gas fireplaces and I find the rooms a bit cold.
Bring a book, bring two books 🙂
Bring a bottle (or two) of wine.   They don't have alcohol but you can bring in your own bottle.   There is something magical about the Inn – especially in the evening when the day spa'ers leave.     Sitting in the Massey Living Room with a roaring fire, glass of wine and a good book…. BLISS.
There are no TV's at the Inn.   I bring my laptop and some DVD's to watch movies when I go back to my room for the night.
Let the world go, embrace your Spa Hair, Robe and Pampering!.
And yes.. I spent 3 days in my bathrobe. … breakfast, lunch and dinner!
Spa Services / classes this time were:
Sesame and Milk Stone Wrap
Meditation Class
Facial
Deep Tissue Massage
Foot Rejuvination
Pure Aroma Therapy Massage (freebie)
Yoga Class
Included in the cost per night is:   your accommodations, $120.00 in spa services, use of all of the facilities (outdoor grotto, hot tub, sauna, eucalyptus steam room (my fav), Breakfast, Lunch, Afternoon Tea, Dinner…. and the food is amazing.     I have been in the winter and the summer.      Winter is my favourite.   I love the comfort, coziness, fireplaces, etc.
I stayed in the Garden Room this year.     Very comfy.  Check out that roaring fire 🙂     This room also had a fireplace in the bathroom.
My favourite spot to sit and read at night.     The Massey Living Room.
A beautiful view.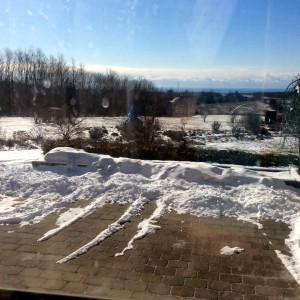 The quiet room…. magazines, blankets, puzzles.
Thanks for stopping by.    I know you came to see some stamping.   Tomorrow I will have a super-cute Easter card to share with you.
Thanks for stopping by,
Elizabeth, Your Stampin' Up! Demonstrator
www.stampscrapandmore.com