Hi Stampers
We got up early this morning to watch the sunrise over the Sahara…. I KNOW… doesn't that sound amazing!    We could hear the ladies in the other tents slowly waking up, giggling and laughing and talking about the awesome experience that we had all shared.    But the day was just starting.   A quick shower (OK… very quick because the water was COLD!) we got dressed and headed outside to climb the dunes to see the sunrise.     We each found our little spot to sit and watch this welcoming event.   It was quiet, no one spoke as the sun came up.
Looking towards the sun it was a rockier landscape.   When you looked in the opposite direction you were faced with the dunes.    You can see the sand undisturbed, with little animal tracks, then you can see all of our tracks as we started to explore the dunes around us watching out for camel poop 🙂
Our camp in the morning light.     On a side note, at some point during the night one of the ladies looked outside their tent.    There was a Tuareg that stayed outside our camp the whole night… I guess to make sure there were no problems.   They really did take great care of us.
After a hearty breakfast we were ready to end our amazing journey into the Sahara.    We jumped into the 4×4 jeeps  and started racing each other out of the Sahara.
Before getting too far, we came across some young boys with Desert Foxes….
Then back into the jeeps to the Kasbah where we left all our luggage the night before.   Cathy, Lori and I shared the ride going into the desert and coming out.   This is our ride leaving the desert.    If you are curious what "waha" means (not sure on spelling) it is "may I" (so you can take a picture and Yalla, Yalla (again not sure on spelling) it is "Let's Go!"
We had a 4 hour drive to our next stop for the night in Ouarzazate.   Along the way we made a few stops.     I can't remember exactly what this place was, but it had something to do with ancient water wells.   But there was shopping.
Then we stopped at the Todgha Gorge in the High Atlas Mountains near the town of Tinerhir.
Before checking into our hotel, we went to an antique type of store.    A few of us looked around then decided to go outside for some fresh air.   It didn't last long.   We experienced a sand storm.   The store saw it coming up and they closed the doors.   Luckily our bus / driver was across the road so we booted it to the bus and waited for the sandstorm to stop .   Luckily it didn't last very long.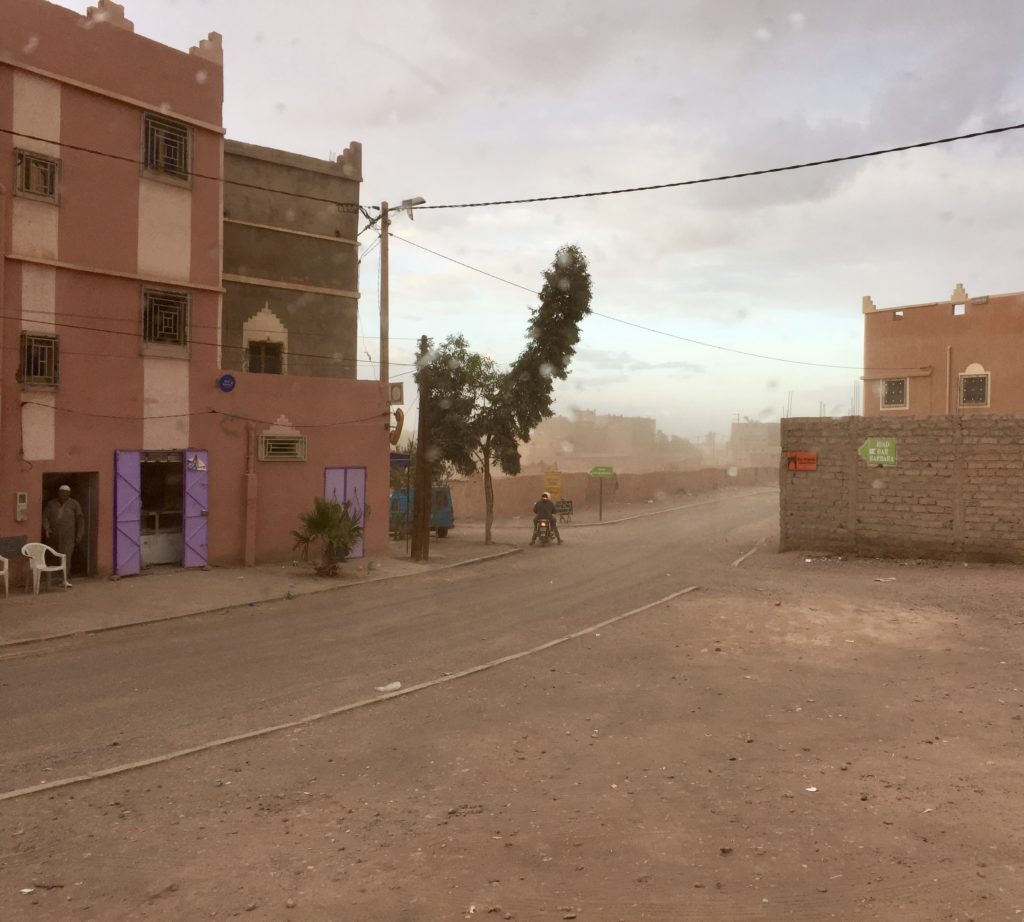 Accommodations tonight were at Le Berbere Palace in Ouarzazate.
Thanks for stopping by,
Elizabeth, Your Stampin' Up! Demonstrator
www.stampscrapandmore.com